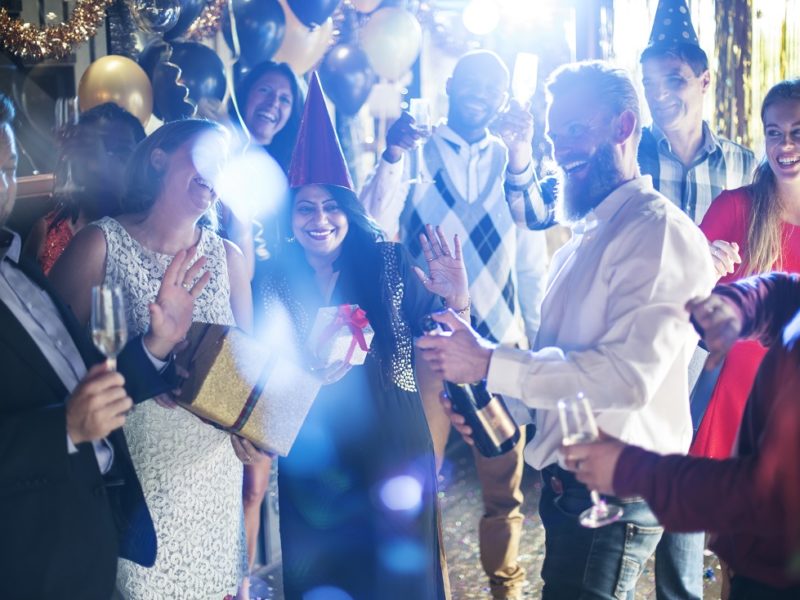 A new year means a fresh start. You have 12 months of endless possibilities to become a better person and take on a few new habits that make you happy.
As you set your goals, remember that New Year's Resolutions don't have to focus around weight loss and aspects of your being that you're not happy with. You can choose simple, positive, and achievable New Year's resolutions that last.
Too often, resolutions are unrealistic and people quickly quit them. We want you to reach your goals this year, so we compiled a list of ten simple New Year's resolutions you can stick to.
10 Simple New Year's Resolutions
Just because these resolutions are simple doesn't mean they aren't powerful. They can and will help you be happier and healthier in 2022.
Check out these 10 options to see if any would be a good fit for your goals.
#1) Start a Journal
Journaling can be a simple, powerful, and achievable New Year's resolution. Set a goal to jot down your thoughts for just a few minutes each day. You can set a time limit (like five minutes of straight writing) or test out bullet journals where you only list a few highlights. Your thoughts are important, and writing them down can help you validate and process them.
Get double the benefit by jotting down lists of things you are grateful for. Regularly practicing gratitude comes with a variety of benefits from improving sleep and increasing happiness to strengthening relationships and boosting self-esteem.
#2) Practice Saying "No"
One of the hardest things for some people to say is "no." They don't want to let their friends, family, or coworkers down so they try to balance each new task and favor until are overwhelmed. If this sounds familiar, you can practice saying no in 201. You can work on turning down small things that would leave you feeling stressed. Use that time to invest in yourself instead and recharge your mental energy.
#3) Spend More Time Outside
You don't need impressive hiking skills to enjoy being outside. There are several ways to spend more time outdoors even if you live in a city or aren't very connected to nature. Sit outside during lunch or step out in the evening to watch the sunset. This time outdoors lets you breathe fresh air, resets your circadian rhythms, and gives you a few minutes to yourself.
#4) Clean Your Phone More Often
Most smartphones are actually crawling with germs. One achievable New Year's resolution could be to clean your phone weekly. Simply wiping it down with a disinfectant wipe can remove the germs and reduce the spread of infection. Plus, you can feel good knowing you have a clean phone.
#5) Explore Your City and State
Florida has hundreds of unique towns, regions, and natural landmarks for visitors and residents to explore. Plus, there are new restaurants, museums, and events nearby that can keep you busy. Set a goal to visit one new place or attend one new event each month. This could be as simple as trying a new yoga class one night or as complex as a weekend road trip.
#6) Reach Out to Lost Friends
Life is busy. It's not uncommon for friends to fall away when your schedule is packed. Commit to reaching out to one lost friend each month to see if you can catch up. If this is too much, then you can pick someone quarterly who you miss.
#7) Try a New Hobby
Hobbies are great ways to make friends, learn new skills, get creative, and spend some time with yourself. Try a new hobby or even multiple new hobbies if you don't know which one you will enjoy the most. You can find meetups in your area or simply work on it yourself. Remember: the goal of a hobby is to have fun. If you take up painting, you don't need to be the next Picasso as long as you enjoy the process.
#8) Take Your Lunch Break
Has your lunch break gotten shorter? Are you skipping lunch or eating at your desk? Commit to taking your lunch break in 2021. Set a goal to eat away from your desk for the full time at least twice or three times per week. Eat outside or with a coworker. You will return to your desk more relaxed and productive than before.
#9) Give Others (and Yourself) More Compliments
It costs you nothing to tell your coworker that they did a good job in a presentation or to compliment your friend on their new hairstyle. Take time this year to notice positive traits in others and to point them out. This taps into the words of affirmation love language and establishes channels of communication.
And while you're at it, compliment yourself more! Say positive things to the person in the mirror and celebrate your mini-accomplishments when you have them.
#10) Drink More Water
Drinking water is another one of our simple and achievable New Year's resolutions. There are countless benefits to drinking water, from improving your skin to flushing out waste. You don't need to keep a giant jug of water with you. Start by adding a glass of water to each meal or buying a reusable water bottle that you can carry with you.
Feel Empowered by Setting Achievable New Year's Resolutions This Year
Remember, these New Year's Resolutions will take time. You may want to see results immediately, but the idea is to create a plan to carry you through the next several months. However, if you take small steps to move forward with your goal each week, you can accomplish your New Year's resolutions when everyone else has quit.
For more tips on how to live a happier, healthier life, check out our free ebook How to Take Control and Start Living a Life You Love. Get inspired by 75 small daily adjustments that can drastically improve your mind, body, and attitude.
And, if you'd like to set bigger goals for yourself in 2022, we're here to help!
Talk to us about how we can help you set and stick to realistic goals to help you live a happier, healthier life. We're here for you if you're ready to get the skills and support you need to ditch old bad habits, find more clarity in your life, and break free from stress, depression, and unhealthy patterns. Learn more about how we can help and get $25 OFF your first appointment by downloading our counseling info guide.