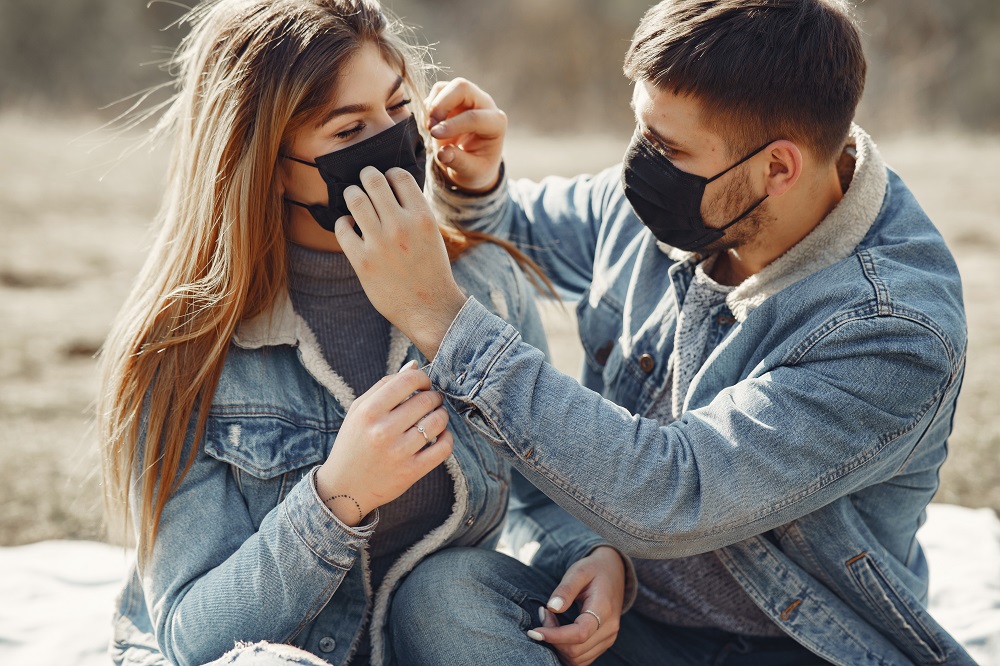 Covid-19 shelter-in-place orders have forced couples to spend more time together than usual. Couples are cooped up with nowhere to go and sometimes, not much to do. They are sharing space just the two of them or with kids — and no breaks. It can be stressful.
And to make matters worse — these weeks at home are paired with a variety of external stresses. 
It's a scary and unknown time. People are out-of-work and unsure about what will happen with public health and the economy. Nerves and emotions are heightened, so it should be no surprise that these unusual and uncomfortable circumstances could lead to complications in even the strongest relationships.
But the good news is there are ways to cope, protect your relationship, and even strengthen your love during these difficult times.
How Covid-19 Impacts Relationships
The first step in protecting your relationship during Covid-19 is accepting that this situation will likely add stress to your partnership.
Your Buried Relationship Skeletons Will Resurface
In normal times, we are so busy that it can be easy to ignore or bury issues in our relationships. It's easy to sweep things under the rug and put off discussing or working through problems.
But now that we are home in each other's faces all day long, these skeletons will come out to haunt us, and there is just no way around it.
You May Need to Relearn How to Enjoy Each Other's Company
For many of us, it's been so long since we've had this amount of time to spend with each other. We forgot how to interact, how to have fun, how to communicate, or even how to show support for each other. We live these automatic programmed daily lives, and we forget how important spending time with each other is.
However, this can be very difficult because what worked at the beginning of our relationships may not work now. We change so much as humans, and because of our busy lives, we don't do such a good job keeping up with those changes. Now, it's time to rediscover each other.
Financial Instability Can Put Stress on Your Relationship
More than 10 million people are out of work because of Covid-19. Whether you and your partner are still working or among the millions of people unable to go to work, the situation is extremely stressful for everyone.
Most people are worried about their finances and the overall economic impact of Covid-19. And, stress about money can manifest as stress in your relationship — especially if money was a problem in your relationships even before this event.
Related: How to Take Care of Your Mental Health During Covid-19
How to Strengthen Your Love During Covid-19
If you have been feeling stress on your relationship during Covid-19, you aren't alone. The situation is set up to trigger couples. But, there are ways to get through those stressors and even find a way to strengthen your relationship during this time.
Go Into It as a Team
This is a challenging time. Acknowledge that and commit to getting through it together. It's important to maintain focus on being a team and working together to manage these stressors as well as the fears of not knowing whether there will be income and/or when. The key here is to know that there will be options and to find peace in knowing that not all of the solutions will be known right away.
Focus on Improving What You Can Control
Don't use this time to distract or frustrate yourself by thinking about problems that are out of your control. Use this time to strengthen things in your life you do have control over such as your marriage or relationship with your children, parents, family members, etc.
Learn How to Disagree
Learning how to fight productively is essential to getting through this time — and your relationship as a whole. Disagreements will always be there. That we cannot change. We are always changing and turning into different people and of course, those differences will lead to differences in how you and your partner see things. Instead of resisting the differences, learn how to handle those arguments and disagreements in a positive way.
Related: How To Communicate Better With Your Partner in 7 Steps 
Don't Continue to Ignore Your Problems
If you're putting off dealing with issues in your relationships, things aren't going to magically get better when life gets back to "normal." Don't wait until your relationship is broken to fix it. Start working on it now. Then, when things do get back to normal, you and your partner will be even better equipped to take on the next round of life changes.
Enhance Your Relationship In the Time of Covid-19
Everyone needs help navigating through the complexities of relationships. Both stressful situations (like we are living in now) and ordinary life cycles put pressure on relationships. To navigate both of them, you need the tools to help you and your partner grow, change, and deal with changes together.
During this time, don't forget about prioritizing your relationship and giving you and your partner what you need to get through this moment and also to thrive in the time that comes after.
Right now, Loving Life Today is offering support to couples through remote counseling sessions — which are a great way for couples stuck home to get the support they need.
We can help you:
Set appropriate expectations
Learn how to communicate and productively disagree
Understand how to accept each other's personal growth and changes
Increase intimacy and romantic connection
Get the tools you need to deal with stress outside of your relationship
To help couples during this difficult time, Loving Life Today is proud to be able to offer virtual couples counseling sessions at a discount. Learn more about our virtual therapy special rates.
We're also offering a self-guided way for couples to reconnect during this extra time together.
We're offering a deep discount for our online couple re-connection program through the month of April. The "Reignite Your Relationship" Program is a four-week guided online course filled with daily readings, journal prompts, worksheets, and activities to help you and your partner get the spark back!
This time can be difficult for couples.
But instead of moving away from each other, see how this time can help you rediscover each other and come out stronger on the other side.