On the surface, the holidays might look like a joyous time filled with fun, food, family, and friends. But underneath the holly, it's not always so jolly.
The holidays can be a stressful time.
Just as fun, food, family, and friends can lead to joy, they can also lead to too much alcohol, not enough sleep, overeating, overspending, and strained family interactions.
To help you through the hurdles that come along at "the most wonderful time of the year," here are eight tips for managing holiday stress.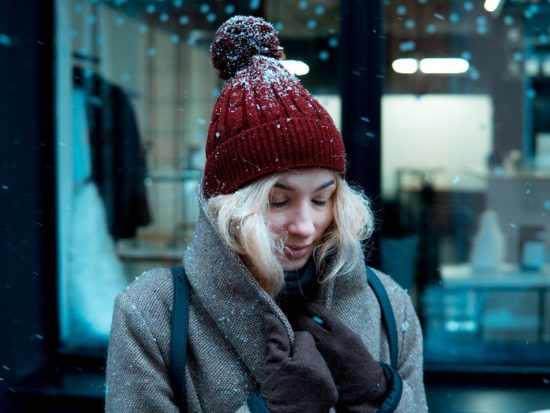 8 Tips for Managing Holiday Stress
Put these tips into practice so you can feel happy and healthy this holiday season.
#1) Plan Ahead
Few things are more stressful than being in a crowded mall on Christmas Eve trying to find gifts for everyone on your list. You can easily avoid this form of holiday stress by planning ahead and not procrastinating on the things you need to do this holiday season.
Buy your nonperishable groceries far in advance so you only need to visit crowded grocery stores for fruits, meats, and other fresh foods.
Plan your outfits in advance. Don't wait until minutes before you need to leave to realize you don't have the right winter clothes to wear to a formal event or family dinner.
Buy gifts early in the season and stash them away (which is also a good tip for releasing stress on your wallet).
Buy a few generic gifts (like candles, wine, or gift cards) that you can quickly throw in a card or gift bag if you forget you need a gift for an event or person.
#2) Create Boundaries
During the holidays, you may feel obligated to say "yes" to everything. From family dinners to work parties to gift exchanges, holiday obligations can pile up. Know that it's okay to say "no." Set boundaries for what you want to do and how you want to spend your time. Listen to your mind and body, acknowledge what you need (and don't need), and focus on doing what is right for you.
#3) Schedule Non-Holiday Activities
It's easy for your days to fill up with holiday events and activities. Keep a calendar with all of your upcoming holiday plans, and also make placeholders for non-holiday events that you still need to do to feel good physically and emotionally.
Schedule exercise. Carve out time in your calendar for exercise so you don't skip all of your gym or yoga sessions in December.
Schedule healthy eating. To maintain healthy eating during the holidays, schedule time to eat healthy snacks or meals before parties or dinners you know will be filled with heavy foods.
Schedule down-time. Don't bloat your calendar with events all day every day. Schedule time to relax, reflect, and recharge — guilt free!
Schedule sleep. Leave enough time in the morning and evenings so that you can get the sleep you need to feel fully rested and recharged.
Recommended Reading: Bedtime Habits to Help You Get Better Sleep 
#4) Don't Spend What You Don't Have
Holiday stress can often come on as you see the receipts come rolling in with holiday expenses. Avoid this added burden by creating a budget — and sticking to it. Don't go into debt trying to create the perfect holiday. Don't spend what you don't have just to reach a certain gift threshold or impress a loved one.
#5) Ditch Perfection
One thing that can cause you to spend money you don't have is trying to create the picture-perfect holiday. Movies, magazines, Pinterest, and seeing our friends' social media posts can cause us to believe that we need the perfect place settings, expensive gifts, and high-end Christmas tree decorations to have a successful holiday. But this year, don't compete with the perfect images you see, and give yourself the gift of imperfection this holiday season.
#6) Treat Yourself!
In addition to being easy on yourself, also treat yourself! While the holidays are about doing things for other people, remember that you might need some self-care as well. Set aside time and money to do something nice for yourself (like a nice, relaxing therapeutic massage) that can help you get the energy and mindset you need to be generous and present with your family and friends around the holidays.
#7) Give Back
If holiday stress starts to get you down, return to the thing that makes the holiday season so special: giving back. Volunteer your time or donate gifts or meals. Giving back will give you a boost and help you feel more grateful about the abundance you have this holiday season. And, being grateful for what you have will give you an even bigger boost to your mental and physical health. Check out our post on the 17 Health Benefits of Practicing Gratitude.
#8) Ask for Help
The holidays may look happy and rosy on the outside, but you aren't alone if you are feeling stuck in holiday stress. Know that if you are struggling, others probably are too. Don't be afraid to talk about how you feel and ask for help. Whether it's asking for help to accomplish your holiday tasks or reaching out to a professional to work with you through the holiday stress — take time to take care of yourself this holiday season.
Recommended Reading: How to Talk To Someone About Depression If You're Feeling Down
If Holiday Stress Gets to Be Too Much…
These are a few tips and ideas that can you help you manage holiday stress and feel better in your mind and body this season.
But if you feel that your holiday stress is more than a seasonal mood shift and is the sign of something bigger, Loving Life Today is here to help. Learn about how our individual therapy or wellness programs can help you overcome your holiday or general stress and struggles.
Download our free counseling info pack to learn more about Loving Life and to see if our programs might be right for you.