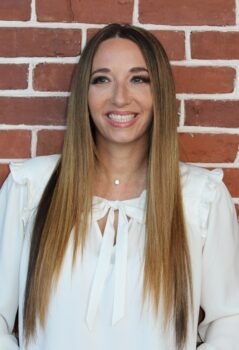 Nicole Angel is a passionate advocate for children, adolescents, young adults, and couples. She works to provide trauma-informed services, high-quality solutions, and relationship mending. Nicole also focuses on social-emotional regulation concerns and addressing pressing issues to heal, support, and grow.
Nicole has experience working with the school-linked mental health program in Hillsborough County schools with Level III trauma in children, involvement with the dependency care system, and families with substance abuse.
She has a strength-based approach that is mindful of cultural, ethnic, and economic concerns. Modalities used in her treatment may include play therapy, CBT, psychodynamic therapy, family therapy, motivational interviewing, and reality therapy.
In her clinical experience, she has worked for the state of Florida at the Department of Children & Families and Hillsborough County as a Juvenile Dependency Case Manager and Substance Abuse Counselor, both inpatient and outpatient. She also participated in the Drug Court and led a family Al-Anon therapy zoom group weekly for families of patients in detox and rehab.
Nicole was formerly on the Family Advisory Council at Florida State University and now sits on the same council at Florida Gulf Coast University. She is a Grant Proposal Community Review Team Member for the Children's Board of Hillsborough County.
Nicole has been a mentor for the past five years and is inspired daily by her two children, who she travels the world with, often visiting family in Cuba. In her free time, Nicole enjoys Broadway shows, comedy, reading, sailing, tennis, and cooking.
Specialized Areas
Trauma in children
Couples counseling
Relationships
Individual therapy
Family therapy
Additional Areas of Practice
Cognitive Behavioral Therapy
Motivational Interviewing
Reality Therapy
Education
Bachelor's Degree in Psychology and Education, St. Leo University
Master's Degree in Clinical Mental Health Counseling, Capella University