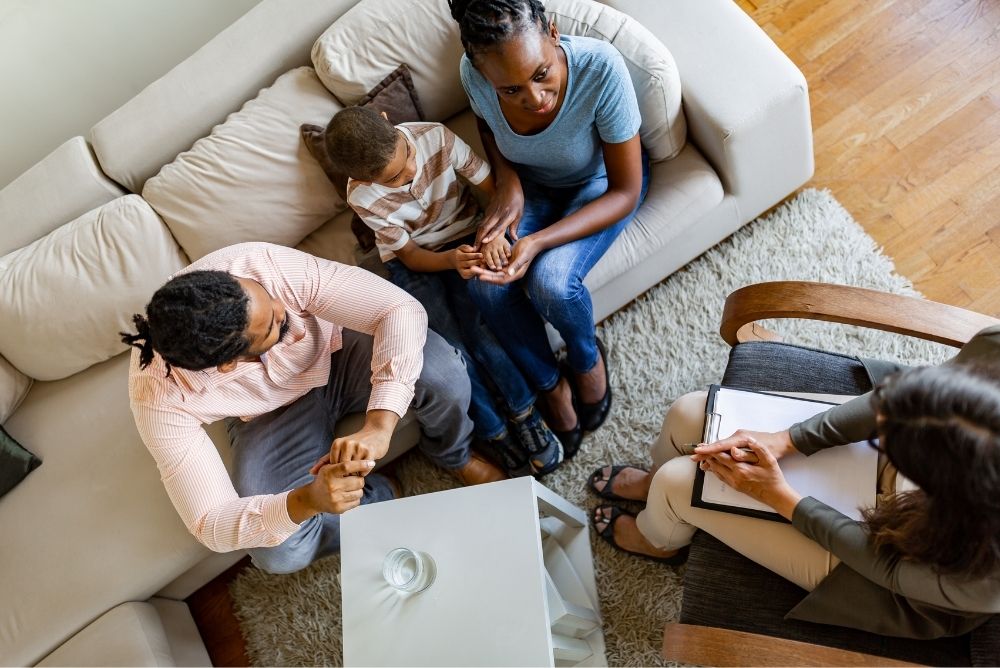 When we think of therapy, what so often comes to mind is an individual and a counselor sitting in a room together. Our imaginations may even stretch to allow for a glimpse of couple's therapy. However, an often-overlooked form of therapeutic engagement involves the whole family. 
Family therapy can provide a variety of benefits to parents, children, siblings, and close members of any type of family unit.
Wondering if family therapy is right for you and your loved ones? Consider what family therapy is and how it can help your family resolve issues and form deeper, more meaningful relationships. 
What Is Family Therapy?
Family therapy can involve any of the important people in your life. The main goal within sessions is to repair those important relationships, resolve conflicts, or improve communication between members.
Typically, these sessions are guided by a licensed Marriage and Family Therapist who has specialized knowledge about family dynamics. This form of counseling may be short-term depending on the needs of the group and usually last ninety minutes per meeting to allow everyone the chance to speak and connect.
What Family Therapy Is NOT
It's important to set proper expectations when entering into family therapy.
Family therapy is not:
A fix-all solution to your family's problems. 

A space to safety ridicule or gang up on family members.

A place where therapists blame parents for their children's problems. 

A program that requires all members to attend sessions.

A long-term therapeutic process. 
Who Is Family Therapy For?
You may be wondering who family therapy is for.
While there is no set rule about who can attend, family therapy has been found to help those who:
Have experienced a natural disaster or loss of home.

Are going through a separation or divorce.

Have been estranged for various reasons. 

Are moving out or going off to college.

Have witnessed or directly experienced family trauma.

Are becoming new parents or seeking to foster or adopt.

Want help coping with a relative who has a serious mental illness.

Are grieving the death of a loved one. 

Are in addiction treatment centers. 

Have children with disabilities.

Need assistance working through financial stressors.

Have experienced behavioral challenges.

Have witnessed or experienced domestic violence. 
That said, family therapy works well for anyone who wants to improve the undercurrents of their family circle, and it has been shown to help improve a number of areas. 
Related: Is It Typical Teen Angst or Something More? 12 Signs for Parents to Keep an Eye On
The Benefits and Goals of Family Therapy
Family therapy has been shown to have various benefits within family systems and for individuals.
Some of these include but may not be limited to its ability to:
Build communication skills.

Aid in the development of empathy and understanding.

Allow for the construction of healthy boundaries. 

Help to define roles within the family system.

Cultivate coping skills.

Address dysfunctional interactions

.

Help individuals gain awareness of how their behaviors affect the group.

Provide ways to recognize and alter unhealthy patterns. 

Provide needed support through difficult times.

Help create new or more meaningful connections.
Related: Nurture Your Relationships by Making Time for Loved Ones
What Does Family Therapy Involve?
It is normal to feel unsure of what to expect when attending a new event, and that is why we have prepared a list of thought soothing points to set your mind at ease. 
While in session, you can expect the family to express their thoughts, emotions, and concerns.

Family roles, behaviors, beliefs, rules, and patterns will be explored as a means to target areas of concern that may be contributing to conflict. Additionally, ways in which to work though these concerns will be presented and applied. 

The group's strengths and weaknesses will be considered.

New ways to promote empathy and helpful communication will be cultivated. 

The therapist and group will work together as a team and collaborate effectively.
When Should You Seek Family Therapy?
If your family is showing signs of one or more of these symptoms, then it may be time to consider signing up for therapeutic sessions.
Members are not able or have a hard time functioning in their normal capacity, seem tired, and have fallen out of healthy routines. 

Members seem to have extreme emotional reactions and are experiencing high levels of anger, fear, depression, or anxiety.

Communication has been lost between members, and it seems more difficult to connect.

One or more members has entered into seclusion.

Individuals are threatening acts of harm against themselves or other members in the group.

A member has expressed that they want to give up or feel overwhelmed and hopeless due to overwhelming stress. 

Changes have been noted in behavior outside of the home such as in school or at that person's place of work. 

The family has recently undergone a major traumatic event.

Substance abuse concerns, eating disorders, or mental illnesses have placed a strain on the family. 
Family therapy may not be for everyone, and it is not guaranteed to solve all of the family's conflicts or resolve unpleasant issues. However, it does allow for an increase in understanding and provides the skills needed to cope with challenges in a more efficient way while helping the group to promote a sense of oneness. 
When considering family therapy, it is also important to remember that we create our own families in life and therefore, therapy holds a space for everyone.
Have More Questions About Family Therapy?
Loving Life Today offers family therapy both in-person and virtually. Schedule or call to arrange your first session with a licensed marriage and family therapist today. Call 813-609-6946 or schedule an appointment online. 
If you have more questions, we're here to help. Call us or download our counseling packet for more information (and a coupon code for $25 off your intake session).