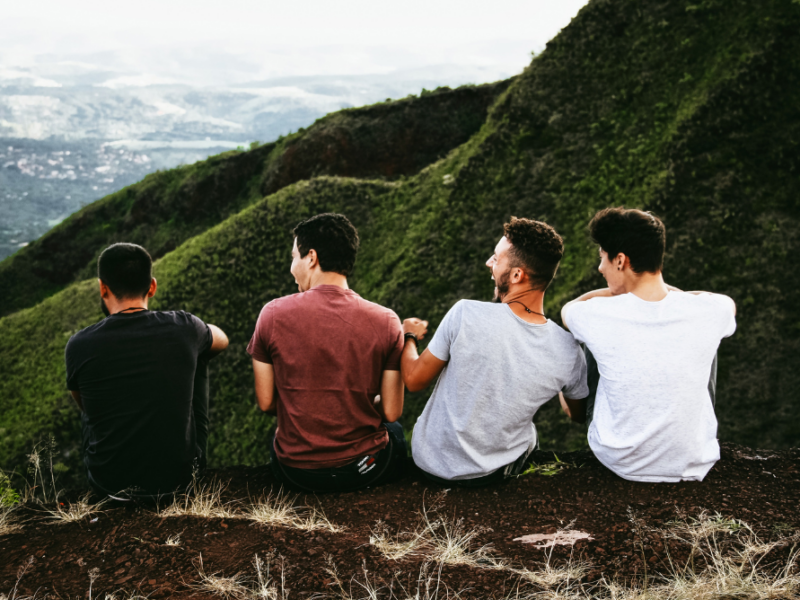 In today's fast-paced environment, it's easy to let your immediate to-do list overtake your life and forget to make time for what is really important — family, friends, partners, and loved ones.
When we get caught up in distractions and fail to set aside time and energy for our loved ones, it can put strain on our relationships. If our loved ones constantly have to pressure us to spend time with them, they may begin to feel unimportant which can trigger hostility, resentment, and arguments. And in worst case scenarios, the lack of attention can lead to ending relationships.
So it is important that we make room in our lives to spend quality time with loved ones.
7 Simple Ways to Grow Relationships That Last
In our busy world, it isn't always easy. But here are a few ways that can help you feed your relationships so they can last, grow, and flourish.
#1) Call instead of text.
Make an effort to call distant family members from time to time instead of just texting. While some contact is better than no contact at all, it's important to make these personal connections to really help a relationship flourish. Hearing someone's voice helps you maintain a stronger connection and you deeper level of communication.
#2) Share your skills and hobbies.

Consider how your personal skills and talents may be of use to your loved ones and find ways to share with them. If you're an expert at crochet, offer to teach your niece a few simple stitches so she can make scarves as Christmas gifts. If your kitchen is overflowing with your homemade canned goods, set aside a few jars of a favorite recipe for neighbors and friends. With a little creative thinking, you may find that you can easily expand some of your everyday tasks to make a big difference in the lives of others.
#3) Cut out activities that aren't important.

Take a close look at your calendar and reevaluate the items that are dominating your time. If you're involved in projects that aren't personally fulfilling, see if you can swap them out for quality time with the people in your life who really matter. It's easy to fall into the habit of prioritizing the same activities month after month if you don't regularly stop to think about whether you're devoting your time to the right causes.
#4) Send a birthday card instead of a sending a Facebook Message.

Social media makes it easy to nourish relationships on the surface without really delving into them and planting roots that will whether the storm. If your friendships exist primarily on the foundation of Facebook likes and brief comments, you may need to step back and return to a more traditional way of doing things, such as sending a psychical birthday card, instead of just writing a comment on your friend's wall.
#5) Carve out time in your calendar (even for loved ones that live under the same roof).
Carve out dedicated time slots for your loved ones, even for your partners and/or kids who live in the same house as you. Existing side by side is not the same as really making time for one another. Put items like quiet family dinners, long evening story times, or an afternoon jog on your calendar alongside your other obligations to make sure you don't overlook the people who matter most.
#6) Acknowledge what is important to others
It's important to think about which aspects of your relationship are most important to your loved ones because they aren't always the same things that are important to you. "The 5 Love Languages" by Gary Chapman is an excellent book for assisting us with learning the skills necessary to understand our loved ones' love language.  It is important that we take some time to listen and understand the ways that our loved ones show and express love rather than how we "expect" to see it.
Your parents may value weekly family cookouts over big birthday celebrations, even if you feel that birthdays trump burgers. While one friend may yearn for a quiet personal chat, another may feel more appreciation from a thoughtful gift. Think about the personal traits of your friends and family members and figure out what's most important to them. Find unique ways to nurture each one of your relationships so you're feeding them with the things they crave most.
Related: How to Open Yourself Up and Let Love In
#7) Show up.
Sometimes the simple act of just showing up can be the biggest way to show your loved ones that you care. If they are having an important event and you have a busy schedule, just show up. You don't have to stay long, but making an appearance and showing your support is an important part of keeping your relationship going strong.
Step back from your pressing to-do list and make an effort to nourish the important personal relationships around you. Both you and your loved ones will benefit from the effort.
Need Help Growing the Relationships In Your Life?
Are you looking to improve your relationship skills? Contact us today to talk about how we can help you strengthen your relationships with your family, friends and/or partners. Loving Life offers therapy and counseling to help with all of the important relationships in your life.
Learn about our family therapy or couples counseling. Or, learn about working on the most important relationship you can have, the relationship you have with yourself.
Download our info packet to see what type of counseling can help you build stronger relationships in your life.