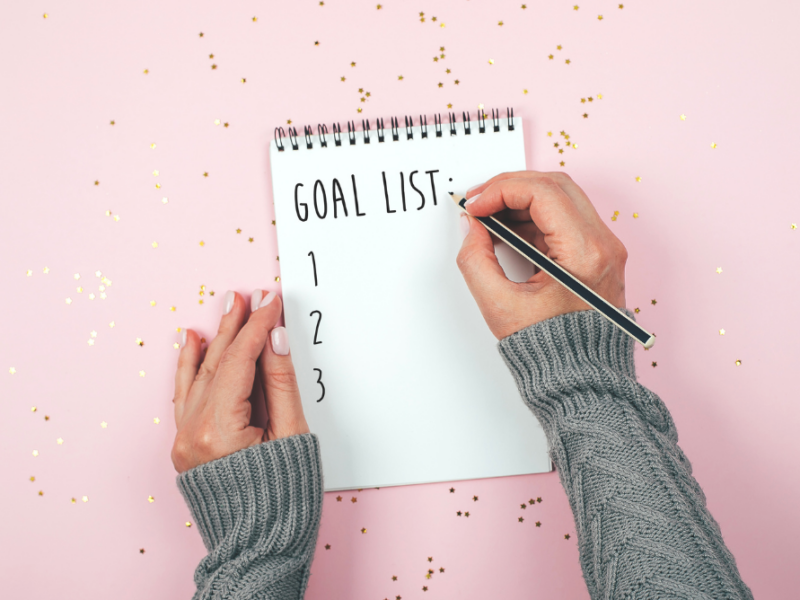 It can be difficult to stick to goals — but it can be just as difficult to define goals!
Defining goals can be tricky. Many of us get stuck using old methods of goal setting that haven't worked for us in the past, or we simply don't know where to begin — and this is a problem.
Deciding what goals are right for you is a big contributor to whether or not you can complete a goal.
You will be less likely to reach your goal:
The goal isn't clearly defined
The goal isn't realistic or attainable
The goal isn't tied to a bigger purpose or meaning
You never share the goal with anyone
You create too many goals
You forget about your goals
You never set any goals in the first place!
To help you set goals you can achieve, here are a few goal setting activities to help you create a plan.
7 Goal Setting Activities
You don't need to do each of these activities. Everyone is different so goal setting will be different for everyone. Choose the activities that resonate with you and combine the exercises to outline a clear goal you can reach.
#1) Identify goals based on life's categories.
If you don't know where to hone in on a goal, consider the categories of your life. Look at each category and determine which category needs some work.
Ask yourself: What could I do to make this category stronger or more meaningful?
Family
Romance
Emotional/Mental
Physical
Spiritual
Career
Financial
Friends
Home
You don't need to assign a goal for each category. In fact, that could leave you with too many goals. Instead, use this goal setting activity to inspire you to find the areas you may want to focus on most.
#2) Identify goals based on habits.
Another way to come up with goals is by looking at your habits. Think about your regular activities and how you would like to change them.
Fill in the blank. I want to:
Stop doing __________.
Do less of __________.
Do more of __________.
Keep doing __________.
Start doing __________.
If you're struggling to come up with ideas, refer back to the list of life categories to find inspiration.
Related: 7 Ways to Embrace Change in Our Lives (And Why It Can Be So Difficult)
#3) Identify goals based on time frames.
Another way to approach goal setting is using an activity that breaks your goals down by time frames. Consider what you'd like to do throughout the year, and assign the activity a timeline.
Fill in the blank.
Every day I want to __________.
Every week I want to __________.
Every month I want to __________.
Every quarter I want to __________.
Every year I want to __________.
You don't need a goal for each time frame, but this goal setting activities can help you start to set realistic, time-bound goals and deadlines.
Related: 10 Achievable New Year's Resolutions To Work on This Year
#4) Create a vision board.
For some people, it may be difficult to find the words for what you want to achieve. If that sounds like you, create a graphic-driven vision board. Gather up old magazines and cut out images, create a Pinterest board, or simply create a file of photos on your phone or computer.
As you browse through images, ask yourself: What do I want?
Curate a set of images that show what you want your life to look like and what you want to have. Turn the vision into a goal by outlining what you need to do to bring that vision to life.
#5) Describe your ideal day.
Another way to use visuals as a goal setting activity is by creating an image in your mind. To find your goals, start by thinking about what you want your days to look like.
Ask yourself: What do I want my life to look like?
When I wake up, I __________.
I spend my day__________.
In the evening. I __________.
At night, I __________.
Fill in the blank, and then assign the goals you will need to reach to lead to the perfect day. Break the steps down into small pieces to set small goals to lead to your vision.
Related: Want to Make a Lasting Lifestyle Change? You Need These 3 Things
#6) Determine your "why."
We set goals because we want to create a result. But the result often isn't as much of a motivator as the reason we want to see the result. You will be more likely to reach your goals if you have a strong reason why you want to make it happen.
In your goal setting activities, fill in the blanks.
I want to achieve ___________ because ______________.
Think about the core reason why you want to reach your goal. An example might be that you want to lose weight because you want to be able to carry your grandchildren. Or, you might want to drive more sales at work so you can take your spouse on a romantic vacation to reconnect.
Related: 7 Tips for Positive Thinking to Shift Your Mindset
#7) Validate your goal.
If you went through the other goal setting activities, by now you may have an idea of what you would like to accomplish. Now, take some time to validate your goal. Validating your goal helps you determine if your goal is something that you can and will accomplish.
To validate your goal, confirm that the goal is:
Specific
Measurable
Attainable
Realistic
Timely
If your goal is properly defined and realistic, take another step to help you reach it. Consider what could get in your way, and make a plan to overcome any future challenges.
What obstacles will you face?
What can you do when you face obstacles?
What can motivate you when you are feeling beat down?
Who can help you?
By answering these questions, you will have a goal and the beginning stages of a plan to help you achieve it.
Need Help With Goal Setting?
There is power in goal setting. You are more likely to accomplish something meaningful or make a lasting change if it is centered around a goal.
But for many of us, it's easier said than done.
Use these goal setting activities to spark ideas for attainable, realistic goals that mean something to you on a deeper level. And, if you need help accomplishing your goals, don't be afraid to ask for help.
Talking to someone about your goals helps you:
Find clarity about what you what to achieve
Get resources for how to reach your goal
Increase accountability
Stay motivated
Work through difficult hurdles
Enjoy the journey as much as the destination!
If you have goals this year, share them with a partner, friend, or colleague.
Or take it up a notch and work with a pro!
Professional counselors and life coaches are trained to help you identify goals, set plans to reach them, and motivate you to stick to it.
If you are interested in working with a professional to help you reach your goals, we invite you to learn more about life coaching, or get started by booking a wellness intake today at Loving Life Today. We offer both in-person and virtual sessions with professional coaches and counselors. Download our guide to get $25 off your first session.